Kit includes:
1 Silver Professional Grade Case
1 Zip Carry Bag
5 eye shadows
2 blushes
1 concealer
2 lipsticks
1 lip pencil
1 eye liner and brow pencil
2 brushes
2 blending sponges
1 mascara
Complete instructions
E-Book 37 Sexy Makeover Secrets for Succed
Complete makeup makeover in 5 minutes
Longest lasting eye shadows and lipstick
Gorgeous results every time
Products
The packaging of this makeup kit is a plus because you don't have to dig through a whole drawer full of makeup to find the right color. One usually can't remember where any of it goes.
Instant Glamour solves this problem for you, you only need to take your all in one Instant Glamour five minute makeover kit out of the drawer and your ready to go, instead of a bunch of eye shadows, blushes, lipsticks, etc. And it is so easy to pack and take on trips.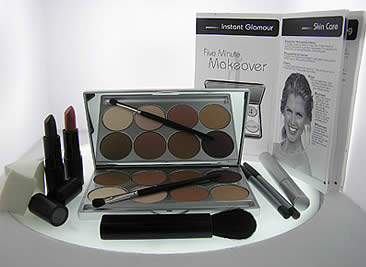 Ingredients:
Some or all of the following ingredients may be in our eye shadows.
Mica, silica, bismuth, oxycloride, magnesium sterate, lauryl lysine, isoeicosane, methcone, polysobutene,methyalparaben, imdazidnyl urea, propalparaben, May contain: iron oxides, titanium dioxides, ultramarine blue, ultramarine violet, carmine.

Drawer full of makeup and not sure where any of it goes?
Solution: Now you have it all in one kit


Tired of spending 20 to 30 minutes getting ready in the morning?
Solution: Easiest 5 minute color by number makeup map.


Trouble knowing exactly where to apply your makeup to look your best?
Solution: Learn the easy secrets only the Pro's know until now with your proven and tested application and blending instructions from one of the worlds best makeover artist, just for you.
New Instant Glamour Lip Gloss Collection
Firecracker - red with gold sparkles.
Bronze - bronze with gold sparkles.
Gold - gold with sparkles
Pixie - pink with sparkles
$48.00 retail - you save 16%
Only $40.00 - Buy Today
Or choose any option below: